So were guessing the coronavirus lockdown consisted of painting fences, feeling happy with your daily hours exercise burning off 300 calories and then sitting in the garden drinking your own body weight in alcohol right?
To be fair many dirt bike riders spent the time doing the jobs we hate, like greasing linkage bearings, clearing out the race truck and other jobs so we are good to go when the race season final starts .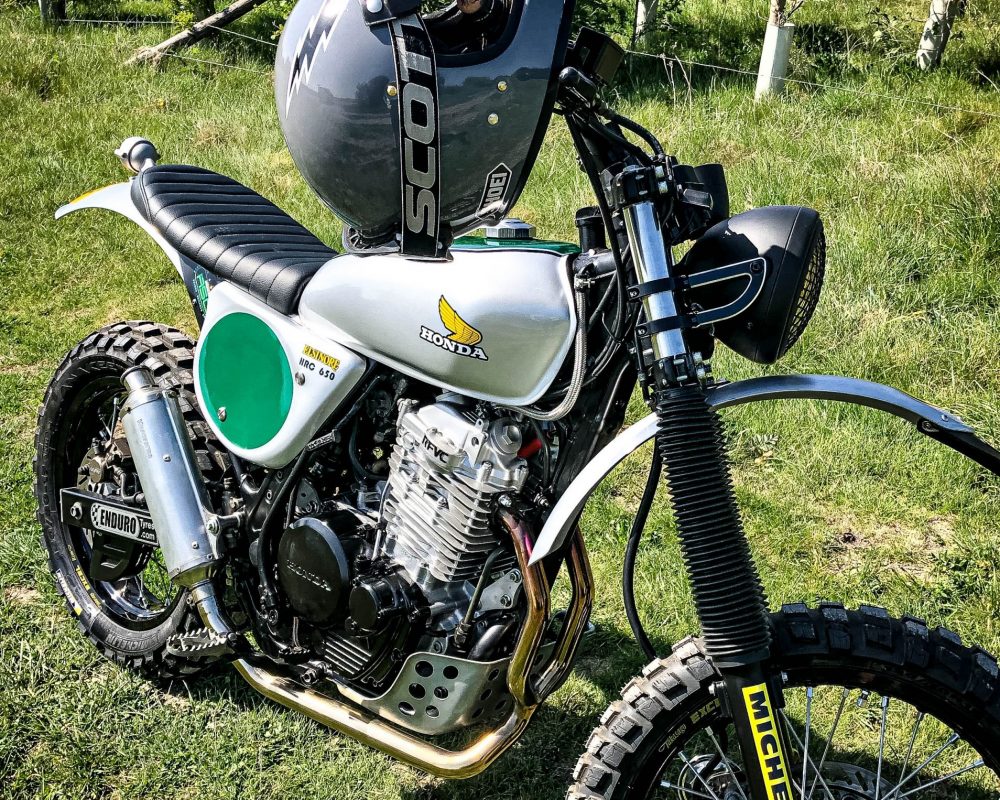 The guys at Endurotyres are guilty of all of the above, but they did find time to finish the following project.
Endurotyres MD Al Ranger says:
"We attend most of the big UK Enduro and MTB events with Michelin race support and the one thing missing is a cool little service / chase bike to go in our race truck. We have been looking for a C90 / Chicken chaser for some time, but these are hard to find and expensive when you do, when out of the blue came this one owner low mileage 1989 Honda Dominator for sale at our local bike shop, VP Motorcycles of Salisbury.
Vince Previtt sorted out a good deal and the Honda was quickly stripped, my old mate Trigg literally sent me a dozen messages saying you can't break up a classic Honda! By this time it was to late and the angle grinder had come out in anger ! All the OE Red Tupperware bodywork had fetched strong money on Ebay adding some more funds to the build pot.
For us being a big Michelin dealer, the main thing was to mount the right rubber and fit Michelin Anakee wild adventure tyres, so we bolt cropped the spokes and sold the stock OE, DID gold rims, the 31 yr old hubs cleaned up perfectly with some WD40 (good old Honda build quality ) and these were sent to Talon to be laced on black Excel rims 19/ 17
~
Once we got the bike sitting right, John Towle, my uncle who has worked on all my race bikes since I was a kid cut the subframe and made the old Honda CG 125 tank fit. Remember, this is a budget bike to be chucked in the truck (not some show stopping minimalist custom bike), Ebay fenders and a sticker kit and pinstripes were sourced and stuck on at the kitchen table, Butch then flicked the tank and side panels over in classic Elsinore silver and green.
One of our old Enduro buddies James Giddings (Steer with style) stopped what he does for McLaren for a moment and did the seat, RS Racing rebuilt the forks after powder coating.
I found a spare silencer from one of my old Husky Enduro TEs so this was used with a nice custom stainless front pipe made by Stainless Chris . Now the bike was breathing a lot better with the pipe and open airbox John Re jetted it to suit.
Being used to riding Enduro bikes on the road without indicators or mirrors, Al's thoughts were like all BMW car drivers, why start now! We ended up with loads of excess wiring from behind all the fairing bodywork we removed so we sent the bike to a Motorcycle wiring specialist and within a few days Richard Prowse had made a bespoke loam, hidden all the unsightly CDi boxes / horn etc and installed a trick GPS speedo we sourced online which looks trick and let us ditch the speedo cable and drive
Any racer knows the easiest performance gain is to save weight , were not sure how many Kgs we saved ? but ditching the high up twin steel rear pipes, cutting the rear subframe, getting rid of the fairing with clocks .steel handle bars , speedo cable and drive , huge petrol tank and seat luggage rack , and miles of wiring gives a much more noticeable lighter feel, coupled with bigger main jet and free flow pipe and the bike feels way quicker, at time of writing were still obeying lockdown so no chance to test off road , but we have a feeling this is going to a be a proper weapon on fire roads .
Ok, so we know we have upset some of the "Vintage Honda Owners Club Branch" but we have saved a ton of weight, gained some useful BHP and ended up with a cool ride for very little money, probably not much more money than the C90 we were looking for!